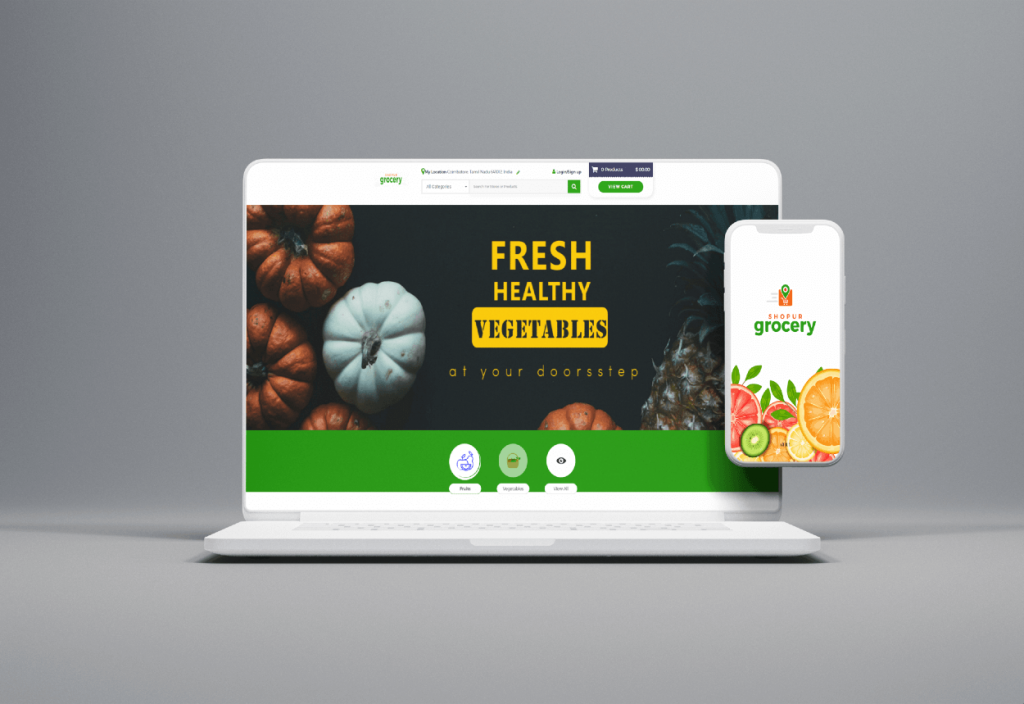 Nowadays online shopping is gaining more importance than ever. As grocery retailers, grocery supermarkets and hypermarkets want to provide ease of online shopping to their customers. We have been empowering businesses with powerful and feature-rich solutions. But technology and customer shopping interests keep changing in time. With this in mind, we are delighted to announce that our product Shopurgrocery's web and mobile application are upgraded to the latest version3.0
With a website and mobile app powered by Shopurgrocery, online grocery businesses get a wide range of opportunities to strengthen their sales and revenue. We have integrated the necessary tools and features to grow your grocery business prominently. Take advantage of this upgraded software to retain control of customer data, increase customer loyalty, retention rate, and build your brand significantly.
Our mission is to help new-age grocers, entrepreneurs reach millennial customers with futuristic solutions to grow and thrive. As a leading grocery software development company, we create websites and mobile apps with the finest features that know how to connect with the user base. Our team is known for delivering better service to our existing clients, and it's always a brainer to get online ordering software that is already successful in the market.
In suffice, Shopurgrocery product release is to meet the overwhelming demand for our software. For many of our customers, Shopurgrocery has helped to increase their sales since the pandemic began. We've helped different types of grocery businesses to move their business operations digitally. Our own branded website and app offer new features to optimize the ordering experience even better.
The upgraded version of our website and grocery mobile apps can double your profits. The old version of our software has helped many businesses to achieve optimal growth in a short time. This is only because of the extraordinary product and great customer service that we deliver to client. We assure you that our promise will not change and we will keep delivering the best products in the grocery marketplace.
The main reason behind our growth has been the success of our client's who got potential sales by turning to a grocery online ordering system. Our client have saved a lot of money by eliminating third-party aggregator commissions. Therefore, our clients have built a closer relationship with their customers. You can check our client success stories here.
We all know that pandemic has brought the storm for grocery businesses to build a direct digital relationship with their customers. As a result, the majority of grocery retailers shifted to web store from brick and mortar shops. Thanks to the internet and the growth of technological advancements. As many small business owners are fed up with competing with global big brands. We created grocery delivery software to boost your customer relationships. With Shopurgrocery, build your brand ahead of your big brands and local business competitors.
We look forward to empowering many new businesses and grocery chains with our intuitive website and mobile apps. Launch your own grocery marketplace with Shopurgrocery and future proof your independent grocery brand. We bring the most pertinent grocery solutions for businesses.